As a new parent, changing diapers will be a part of your life for the next few years. I've compiled this list of baby changing table must have items that has worked well for our family. If you have any additions or feedback, please let me know in the comments. I love hearing about new products!
The Changing Station
People often say that a changing table is unnecessary and that it's just as easy to change diapers on the floor. I highly disagree. When I came home from the hospital after delivering both of my kids I had difficulty sitting down without pain let alone kneeling down or bending over to change 8-10 diapers a day on the floor or couch. If you have a dresser available, I recommend a simple changing table tray that can be removed later. Otherwise, a standalone changing table is fine too.
Universal Changing Tray
DaVinci Universal Removable Changing Tray – White (available in other colors) – $49 at Target
Changing Table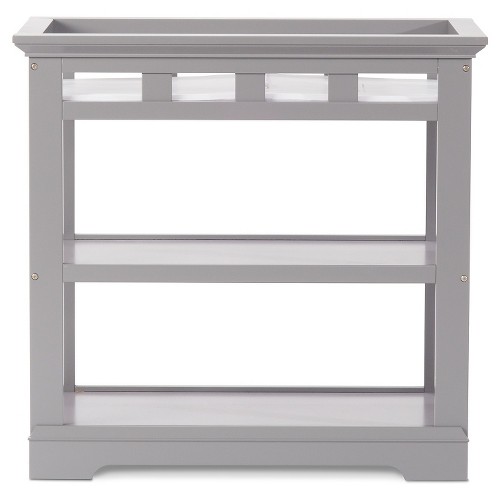 Child Craft Kayden Changing Table – Gray – $149.99 at Target
Summer Infant Change Pad
This changing pad is simple, comfy, and fits most changing tables and covers.
Summer Infant Changing Pad – $17.99 at Target
Cloud Island Wipeable Changing Cover
Babies are messy. They poop a lot. Their poops are messy. These wipeable changing pads from Cloud Island are a game changer. The only caveat is that some newborns don't like the cool feeling under their head so I just put a soft burp cloth under there and it's perfect.
Cloud Island Wipeable Changing Cover – $27.99 at Target
Oxo Wipe Dispenser
When you're sleep deprived and your little one is crying, any little annoyance can easily be magnified. Something like trying to only pull out one baby wipe and getting three is one of those things. The Oxo Wipe Dispenser is a quality addition to your diaper station. It has a weighted plate that makes it easy to only grab the one intended wipe. The clear panel in the front displays how many wipes are remaining and the easy spring loaded top makes one handed use a breeze.
Oxo Tot Wipe Dispenser – $19.99 at Target
Ubbi Diaper Pail
This diaper pail is made of steel and locks in the odors. It also has a childproof lock to keep curious hands out. The best part about the Ubbi diaper pail is that it can use regular trash bags so there's no need to buy expensive proprietary bags.
Ubbi Diaper Pail – $79.99 at Target
Nail Clippers, Hair Brush, etc.
The changing table is a great place to take care of baby grooming needs such as clipping nails and combing hair. I like this kit because it has regular nail scissors, which I find easier to use on baby fingernails, in addition to regular nail clippers.

Safety 1st Nursery Essentials Grooming Kit – $12.99 at Target
Hand Sanitizer
If you can't wash your hands immediately after changing your little one's diaper, hand sanitizer will work in a pinch until you can. I like the Babyganics brand because it's alcohol-free and has a great mandarin scent.

Babyganics Alcohol Free On the Go Foaming Hand Sanitizer – $5.99 at Target
What about diapers, wipes and cream?
I've got that covered too! Check out my picks for the best newborn diapers, baby wipes.
---
Like the article? Pin it to save it for later!
---
The Real Marianos shares information and products that we love and have worked for us. The links in this post contain affiliate links and we may receive a commission if you choose to buy.